Amarillo Commercial Roofing Pros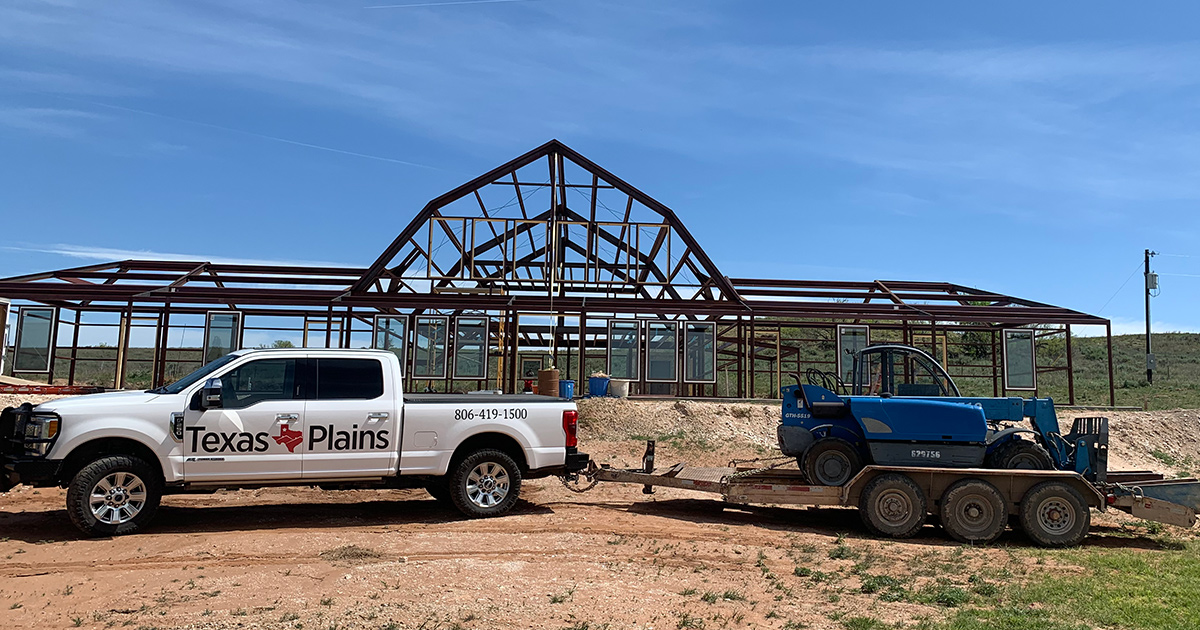 There is no commercial roofing or residential roofing project in the Amarillo area that's too large or difficult for a Texas Plains solution. No matter the CRE sector, e.g., office buildings, industrial complexes, retail centers, multifamily properties, special purpose facilities, or worship centers, we have you covered. Our commercial roofing installations are your source for tough, long-lasting, low-slope roofing systems. Whether it is low-maintenance single-ply roofing, flexible liquid applied roofing, impact-resistant modified bitumen roofing, or traditional built-up roofing, choose the experts at Texas Plains for your next commercial project.
We are Amarillo's fastest-growing full-service commercial roofing contractor, providing inspections, repairs, maintenance, installations, and more. With expertise in all the major commercial roofing systems, look to Texas Plains for emergency services too.
Commercial Roof Inspections.

Do you need your commercial roof inspected? Standard roof inspections can help ward off damage to your commercial property.

Commercial Roof Repair.

Does your building have a roof leak? Texas Plains is your commercial roof repair expert. We locate the problem and make repairs quickly.

Commercial Roof Maintenance.

Got questions about your commercial roof maintenance? Our preventative maintenance program extends the life of your roof.

Commercial Roof Installation.

Does your property need a new roof? Texas Plains does new commercial roof installations and replacement.

Commercial Roofing Systems.

What are the different types of commercial roofs? We can help you choose the right roofing system for your building and your budget.
---
Why Hire Texas Plains as Your Commercial Roofing Contractor in Amarillo, TX
We, at Texas Plains, pride ourselves in our ability to exceed customer expectations. You can trust us with your roofing installations and repairs because we understand just how important it is for us to do our jobs right the first time. Our commercial roofing crews are expertly trained and capable of tending to any and all of your roofing needs. Our team is specially equipped for Amarillo and the surrounding Texas Panhandle for roofing installation and repairs. We know a thing, or two, about how quickly the weather can change in the Panhandle and offer special roofing systems specifically made for West Texas. Let us help you prepare your roof for whatever crazy weather that may come your way. No other roofing company in the Texas Panhandle has experience quite like us. The team at Texas Plains believes we are here for a purpose, to glorify God in our business and bring Him pleasure. We strive to serve the people of our community with excellence. In addition to commercial roofing, we also provide residential roofing services.
---
We Specialize in Commercial Roofing Services
There are many types of commercial roofing systems in Amarillo, your applied roof can be metal roofing, sheet metal, a flat roof, have intricate designs with unique details, energy efficient, modified bitumen, spray foam, single ply and many more. Metal roofing is the most common commercial roof system. Our commercial roofing team is trained to find and fix anything from a leak to replacing the roof entirely. We look for punctures, open seams, ponding water, clogged drains, declining caulk, and much more.
Punctures are holes that occur in the roof membrane, this usually happens due to debris. These can be repaired by patching the holes with new membrane.
Open seams, occur due to a bad initial roof installation – it is extremely important to choose the right commercial roofing company to prevent costly fixes in the future. This can be repaired by patching the open seams with new membrane.
Ponding water is the unwanted pooling of water on a rooftop that remains for 48+ hours. This extra water will speed up the process of deterioration of roof materials.
Clogged drains are pretty common around the Panhandle with all of the wind. Our crews can fix this by unclogging gutters and downspouts and removing the remaining debris.
Declining caulk, occurs as the roof ages. We repair this by cutting out the deteriorated caulk and replacing it with sealant.
---
Assessing Roof Damage on a Shingled Roof
Missing shingles are pretty common in Amarillo Texas, especially with that wild West Texas wind. A few missing shingles are an easy fix. On the other hand, if there are many shingles missing or your shingles are starting to deteriorate, it might be time for a new roof. Shingle deterioration can show up in a number of ways and could be a sign that it is time to replace your roof. Here are a few helpful hints that should help you decide if you're in need of a new roof. If your shingles are: missing granules, have cracks, your roof looks old and worn out, or your neighbors are all getting new roofs.
---
How Much Will Commercial Roofing Services Cost?
A few missing shingles or sealant replacement are an easy fix and are inexpensive. Contact us, and we will schedule a free no obligation consultation. We have repair specialists trained and available to meet your commercial roofing needs. We assess your roof for damage, prepare a detailed estimate of costs, and with your approval, can usually fix or repair your roof in a day. Texas Plains is your source for commercial roofing and residential roofing and home exteriors. Contact us today for a free estimate.