How to Choose the Best Amarillo Siding for Your House
Amarillo Siding. The exterior of your home is an integrated system that includes your roofing, siding, gutters, windows and doors. As Carol J. Alexander with This Old House says, "The exterior of you home has a big job." Not only does your home's exterior have to keep the weather out, it has to do it while maximizing curb appeal. It has to work like it's supposed to and look beautiful at the same time.
If you're wanting to improve the appearance of your home and you're undecided which type of siding is right for you, this article was written with you in mind. We will explore seven different material options available on the market and help you decide which course of action is the best siding for your house. Ready? Let's go.
---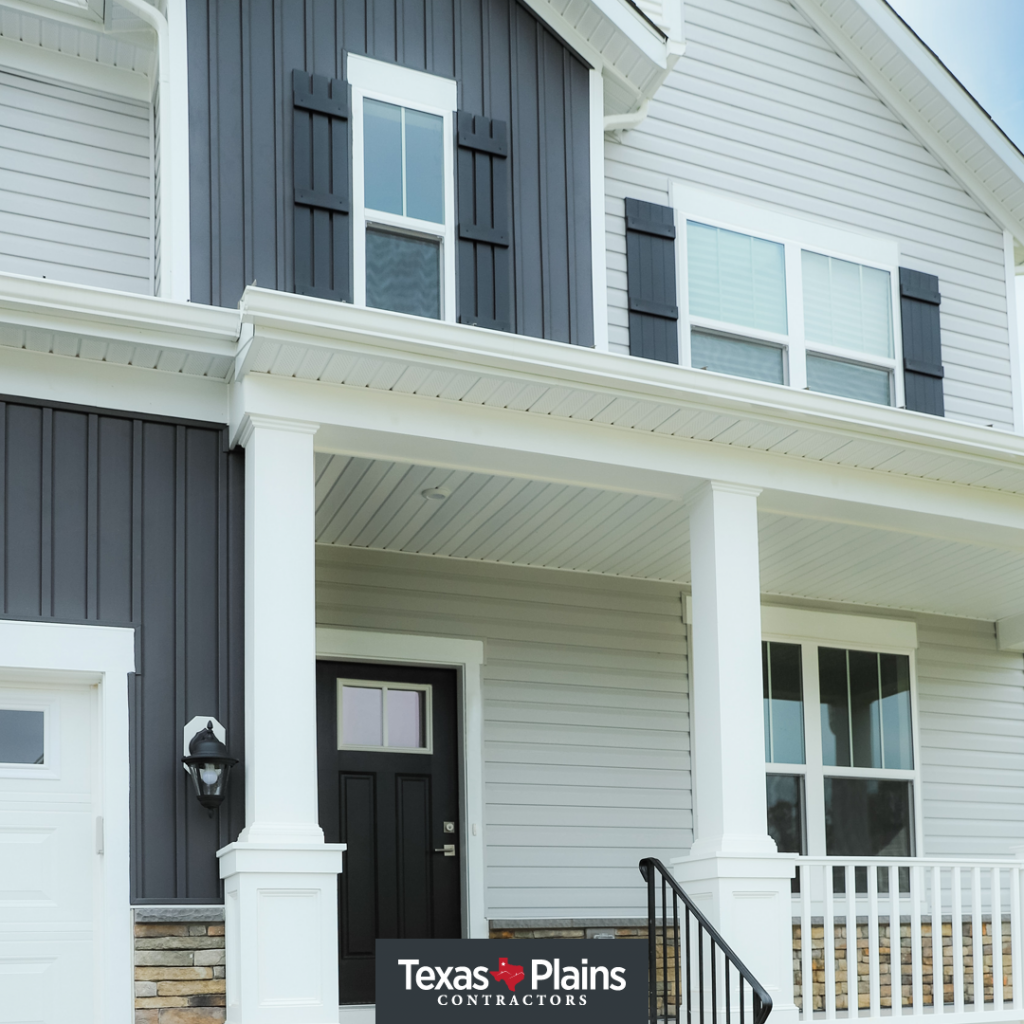 ---
Top 10 Types of Siding for Your Home
In this article, we will cover 10 common siding materials used in building construction and exterior home renovation projects in Amarillo, Texas.
Siding in building construction, according to Britannica, is the "material used to surface the exterior of a building to protect against exposure to the elements, prevent heat loss, and visually unify the facade." It includes the exposed board you see in front of your home just below the roofline, the gutters and downspouts, the finishing material used to cover the underside of your roof overhang, the surface material on your house walls, and the case treatments surrounding your windows and doors.
With this in mind, it's important no matter what siding material you choose, that your trim treatment be compatible with it both in appearance and function.
There are many different siding options available for your home. We are going to talk about ten of them. Our goal is to help you decide what is the best type of siding for your home exterior renovation project.
Let's get started.
Vinyl Siding
People have been putting vinyl siding on their homes for decades. It's weather resistant, comes in dozens of color options, easy to maintain, and lasts for a long time. Vinyl siding is the most popular, low-cost option for homeowners in North America (This Old House).
There's a reason vinyl siding is mass marketed over television: it can be directly applied over almost any surface including brick. It is the most affordable to install; comes in lots of different colors, sizes and textures; and is very easy to maintain. Vinyl siding is not a good siding material to put on an upscale home.
---
---
Fiber Cement Siding
Fiber cement siding has grown in popularity among Amarillo homeowners. It is affordable, durable, and weather proof. Fiber cement siding comes in a plethora of colors. It is nice looking.
In addition to being a stylish choice, fiber cement siding is environmentally friendly and, if it's maintained, can last 50 years or more. Installation is challenging. Having your siding installed by an Amarillo siding professional is the smart choice.
Natural Wood Siding
Nothing can give the exterior of your Amarillo home a more classic and rustic appearance than natural wood siding. It offers great durability (some natural wood siding installs in the Texas Panhandle have lasted 40 years when properly maintained). Natural wood Amarillo siding adds a beautiful aesthetic to your home.
Natural wood siding materials are expensive to install and they require a lot more maintenance than fiber cement siding or vinyl siding. Once installed, you will have to paint or re-stain your wood siding every four to six years.
Nevertheless, if you're going for a rustic farmhouse style, nothing compares to clapboard or board and batten exterior siding. It's better than logs and creates an unbeatable appearance. Natural wood clapboard or board and batten siding comes in spruce, white pine or golden oak.
Cedar Siding
If you're looking for that premium look of wood siding, Cedar is probably the "best of the best" option you can make. Cedar is the most expensive too. At the same time, more weather resistant and durable than other natural wood products.
Cedar is an enduring and beautiful natural wood siding. Depending on where you source your cedar siding, a wide range of colors and grains are available to choose from. It comes in shakes, shingles, panels, and board and batten. You can choose to keep it untreated. Untreated Cedar looks good for a while in Amarillo, but it dries out very quickly in our dry, high-desert climate. This is why we advise most homeowners to treat their Cedar siding materials with an oil, stain or paint for the longest-lasting results.
Hardie Board Siding
Hardie board siding looks like vinyl but it's a lot tougher, more weather resistant, longer lasting, and less expensive. When properly maintained, it will last 50 years. Hardie board siding gives your home a classic look. It comes in all different sizes and shapes including wood lap boards, cedar shingles, and wood shakes.
Hardie board siding is made of 90% sand and cement. Sand and cement, last we checked, doesn't catch fire is completely insect resistant, and can endure harsh weather events like a champion. Most Hardie board manufacturers offer a 50-year, limited transferable warranty.
Stucco Siding
Just how common is stucco siding in Amarillo, Texas? It's more common than you may think. Probably fifty to sixty percent of Amarillo homes have stucco siding. People put it on because it was durable and reasonably priced and helped cut down on their monthly utility bills. And because stucco is a fiber cement siding was especially suitable to the Texas Panhandle's high desert climate. Even today, vinyl and stucco siding are the most common siding on new homes.
Aluminum Siding
Aluminum siding, in spite of being vulnerable to hail damage, is making a comeback. It's durable and cost effective. And when installed on the eaves of brick homes, aluminum siding is a great way to make your brick home virtually maintenance free. It is impermeable to insects, resists corrosion, stands up well to the elements, and is eco-friendly. Aluminum siding is one of the most cost-effective materials on the market today. More and more homeowners are replacing their wood and fiber board soffits and fascias with durable, lightweight and malleable aluminum. Among wood, vinyl, and fiber cement soffit material options, aluminum is the one to beat.
Aluminum siding is not just for the eaves of a home. Architects and builders use aluminum to side entire buildings to achieve
that style that can go from farmhouse to ultramodern.
Natural Stone Siding
Nothing says "Pinterest Worthy" quite like natural stone siding on the exterior of your Amarillo home. When installed by an artisan it creates a remarkable look for your home. Take a drive through The Colonies, Bishop Hills, Sleepy Hollow or Lake Tanglewood and it is apparent that natural stone siding is one of the trademark features of a well-appointed West Texas home.
Natural stone siding is very low maintenance. It doesn't fade, isn't fazed by harsh weather, stands up day-in and day-out. It can last 100+ years if your house can withstand the weight and your pocketbook won't give in to the expensive costs of installation.
Most people are attracted to real (natural) stone siding because of its stunning visual appeal and beauty. And nothing is quite so attractive to Texans as the architectural limestone known as Austin stone. Depending on the application, the weight of natural stone and the expense to install it makes it limited in its application. Thankfully there's natural thin stone veneer with all the qualities of natural stone without the weight.
Natural Thin Stone Veneer Siding
We've all seen natural thin stone veneer siding on commercial and residential buildings and most of us thought it was natural stone siding. This is because it's hard to tell the difference. The outside layer is real and natural stone that's been cut off with special diamond-bladed saws to make it lighter and more flexible to install. This produces a veneer of appropriate thickness and weight to be applied to many different surfaces. Natural thin stone veneer can be applied to masonry, concrete, plywood, paneling, dry wall or metal. It's great for exterior remodeling projects without the need for structural support that natural stone siding requires.
Faux Stone Veneer Siding
Faux stone veneer siding looks like natural stone but weighs less, costs less and can be applied to just about any surface. It does a good job protecting the exterior of a home against, preventing heat loss, and visually unifying its facade. It is a step above manufactured stone, that is to say faux stone veneer looks better and is more durable than manufactured stone.
Faux stone veneer is not as durable as natural stone. It comes in sheets of lightweight concrete panels that can easily break. Depending on the application it lasts 20-75 years. Most homeowners install faux stone veneer because they can save money over the cost of natural stone. It's also flexible and easier to install than natural stone, making it a popular choice for do-it-yourselfers.
Brick Siding
The most traditional and ubiquitous exterior siding in Amarillo, Texas and the surrounding Texas Panhandle is brick siding.